About ThermiTight
Austin, TX area dermatologist Dr. Renee Snyder is proud to offer ThermiTight nonsurgical skin tightening from her private practice, Snyder Dermatology. ThermiTight is an innovative nonsurgical skin-tightening procedure, which helps to boost collagen and tighten loose skin. Our bodies have a full supply of collagen and elastin when we are first born. These natural substances help our skin to remain smooth, healthy, and resilient for years to come. However, over time, the supply of these nutrients begins to dwindle, causing a decrease in the elasticity of our skin and allowing lines, wrinkles, and sagging to occur. Austin area patients who wish to improve the overall appearance of their skin without cosmetic surgery may be ideal candidates for nonsurgical skin tightening with ThermiTight. This advanced technology using the ARVATI machine heats the skin beneath the surface to stimulate the production of collagen and elastin so you can achieve healthier skin without surgery. Schedule your consultation with Dr. Snyder at Snyder Dermatology today to learn more.
Reviews
"What is wrong with me that I love coming to the dermatologist? Maybe because Dr. Foley and Pam are just the best - so professional, caring, kind, and do just what I need done with no pushy extra stuff. It's like coming to see friends who know how to keep me healthy and looking better than when I entered. I love them! More Botox coming up..."
- M.R. /
Yelp /
Feb 08, 2020
"Dr. Parker is absolutely incredible. I have seen her for an in-office cyst removal at just the cost of my co-pay. She was gentle and kind and the surgery went incredibly well. I have had cysts removed from other physicians in the past, but Dr. Parker surpassed my expectations. I have also seen her for eczema and skin irritation issues and she always sends me away with soothing words and soothing creams. I highly recommend her for any dermatological needs."
- R.N. /
Yelp /
Feb 06, 2020
"Dr. Arranda is amazing! Very professional. Really listens to you and answers all your questions. Cares about her patients and always treats you with respect. Helps you with whatever problem you came in with ."
- V.B. /
Google /
Jan 18, 2020
"The Austin Medical Community is honored to have a Dermatologist with the expertise and care that Doctor Jennifer Aranda, MD, provides. Bill McCarron, MD Dec. 2019."
- C.S. /
Google /
Dec 11, 2019
"I've had nothing but a great experience with Dr. Parker. I came to her almost a year ago with problematic skin and after a month or so of treatment my skin was clear! I am extremely happy with my experience here at Snyder Dermatology and of course with my new clear skin!"
- M.G. /
Yelp /
Dec 02, 2019
Previous
Next
ThermiTight Ideal Candidates
Surgical skin tightening and lifting are still the most effective way to treat severe sagging and loose skin. But ThermiTight nonsurgical skin tightening can help address many minor complaints if you are not ready to undergo surgery. ThermiTight can be used to treat many areas of the face and body, including the neck, stomach, arms, and thighs. Ideal patients for ThermiTight:
Are at or near a healthy, stable weight
Have lines or wrinkles on the face or body
Want to boost the health and appearance of their skin
Have mild to moderate skin looseness on the face or body
Are in good overall health
ThermiTight Procedure Technique
Before beginning your treatment, a member of the Snyder Dermatology team will lead you back to one of our comfortable and thoughtfully decorated minor procedure rooms. The predetermined type of anesthesia will be administered before Dr. Snyder gently inserts the ThermiTight wand beneath the top layer of your skin. The handheld applicator will slowly begin to warm the treatment area, stimulating the production of collagen. Your results may take a few weeks to appear but will be long-lasting and gorgeous.
What to Expect with ThermiTight
Because your procedure will be performed under some sort of anesthesia, you should make arrangements to be driven home following your treatment. You may experience soreness, redness, and/or swelling of the treatment area, but this will subside in the coming days. You should be able and ready to return to your daily activities the following day. Dr. Snyder or a member of her team will provide you with detailed instructions on how best to care for the treatment area to expedite healing and prevent infection. ThermiTight will provide long-lasting results that will improve the overall appearance of your skin.
ThermiTight Results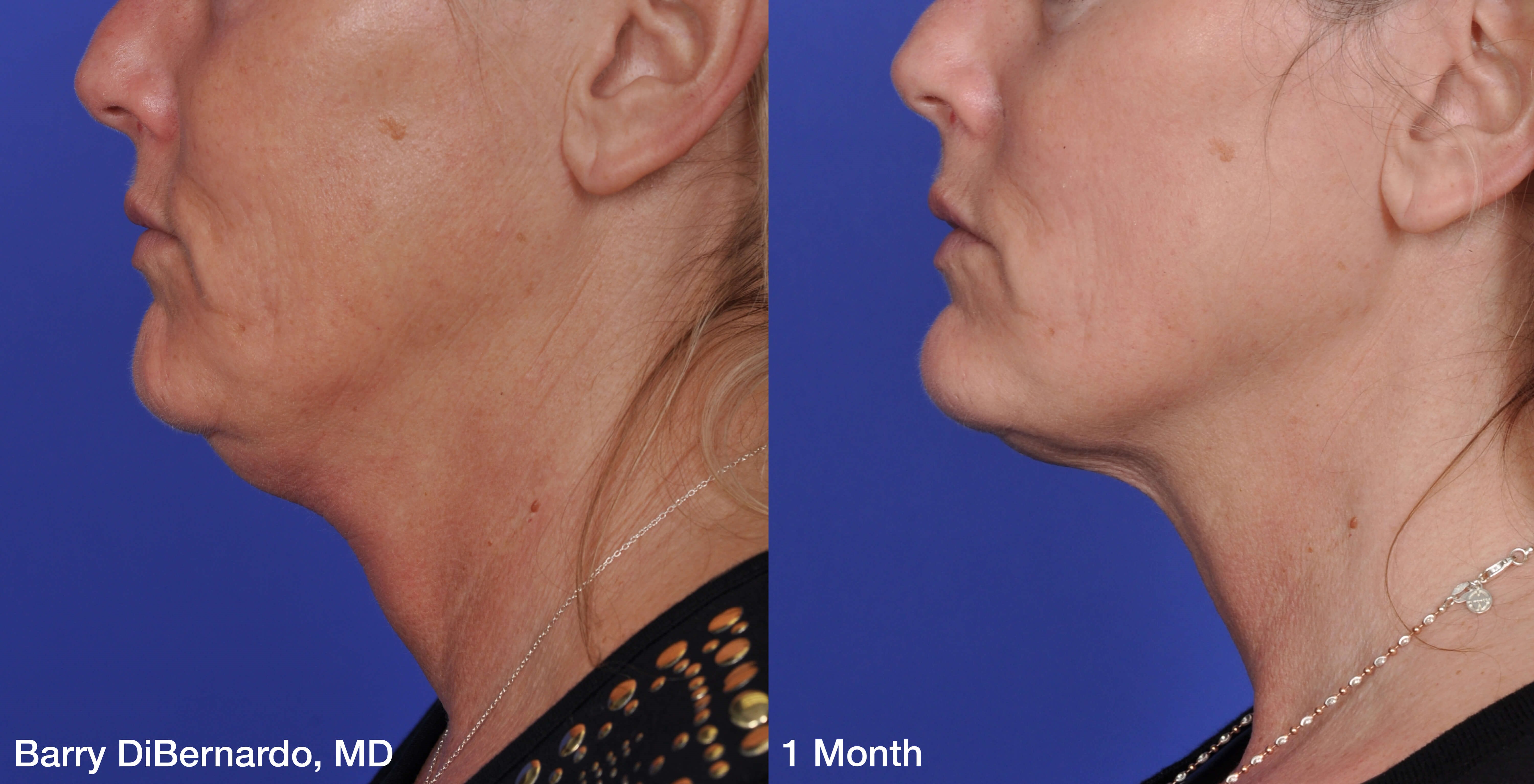 ThermiTight Frequently Asked Questions
How much does ThermiTight cost?
Depending on the size and amount of areas being treated, the cost of ThermiTight nonsurgical skin tightening can vary. Prior to your treatment, Dr. Snyder will create a customized treatment plan, which will allow our team to better determine your out-of-pocket costs. Our facility does accept many payment methods and can help you apply for medical financing.
What is collagen?
Collagen is a protein-based tissue naturally produced by the body. Along with other functions, it works to help keep skin hydrated, elastic, and firm. However, through the natural aging process, the natural supply and production of collagen tend to slow down. This then leads to looser, thinner, and less elastic skin. With ThermiTight, this procedure will bolster your collagen production and help improve the overall appearance of your skin.
What kind of side effects can I expect after my treatment?
After your ThermiTight treatment, you may experience some redness, temporary swelling, and/or numbness of the treated area. This typically subsides within a few days. The results of your treatment will continue to develop in the months following your procedure as collagen continues to be produced. Some patients require several treatments before achieving their desired result.
Plan Your Procedure
Recovery Time

None

ServiceTime

1 hr - 1 and a half hours

Post-op Follow-up

Varies
Contact Us
Rejuvenated Skin
If you are interested in firming and rejuvenating your skin to achieve the firm, toned look of your dreams, schedule an appointment with Snyder Dermatology to learn more about ThermiTight. This innovative, nonsurgical treatment can improve the health and tone of your skin, reducing the appearance of fine lines, wrinkles, and laxity. Call us to schedule an appointment with Dr. Snyder and allow us to create a personalized treatment plan that will help you achieve your aesthetic goals.