About ThermiVa
The effects of pregnancy, genetics, childbirth, menopause, and the natural aging process can cause vaginal skin laxity, vaginal dryness, decrease in sexual sensation, along with other sexual health concerns. Because sexual health issues are quality of life issues, Snyder Dermatology in Austin, TX is excited to offer ThermiVa. As a nonsurgical treatment performed by Dr. Renee Snyder, ThermiVa uses radiofrequency energy to revive collagen to help tighten vaginal tissue and treat functional difficulties. ThermiVa is both safe and effective at improving the elasticity and strength of vaginal tissue without any surgery or additional downtime. It is a great alternative for women wanting to restore the look and functionality of the vaginal area. To gather more info about this innovative therapy, contact Snyder Dermatology today.
Reviews
"The Austin Medical Community is honored to have a Dermatologist with the expertise and care that Doctor Jennifer Aranda, MD, provides. Bill McCarron, MD Dec. 2019."
- C.S. /
Google /
Dec 11, 2019
"Dr. Aranda is simply the best! She takes the time to listen to my concerns and she seems to genuinely care about her patients."
- Anonymous /
ZocDoc /
Oct 30, 2020
"I went to the ROUND rock location. Super professional. Social distance guidelines were followed very closely. Be prepared. I was very pleased with my experience and options for non policy holders. They made me feel comfortable from consultation to procedure. Thank you Snyder Derm !!"
- E.B. /
Yelp /
Sep 16, 2020
"Dr Foley is amazing and I would recommend her to anyone looking for a dermatologist."
- R.C. /
Yelp /
Aug 25, 2020
"Love Dr Aranda! Caring, gentle, competent."
- J.R. /
Facebook /
Jul 10, 2020
Previous
Next
Ideal Candidates
An ideal candidate for ThermiVa is a patient with mild to moderate vaginal skin laxity. It is also an ideal alternative for women unsure about having more children and who want to avoid the downtime of surgery. Ideally, a candidate for ThermiVa will be at least 2 – 3 months post-partum from childbirth, be finished with planned pregnancies, have a decline in sexual sensations, and have loose external or internal vaginal tissue.
Procedure Technique
Performed by Dr. Snyder as an in-office procedure, ThermiVa is administered in three 15 – 30-minute sessions. The sessions will also need to be timed at least one month apart. For the actual process, the ThermiVa wand is positioned over the external area of the vagina and inserted into the internal area. The wand has a built-in thermometer to control the temperature to manage the safety of your skin. Following the session, patients need to avoid sex for at least a day but can continue their normal activities.
What to Expect
Patients who receive ThermiVa can expect to see results about 2 – 3 weeks following their final treatment. Though follow-up treatments might be needed, results will last approximately two years. The results will be affected if the patient becomes pregnant or has a natural childbirth following the treatment.
Results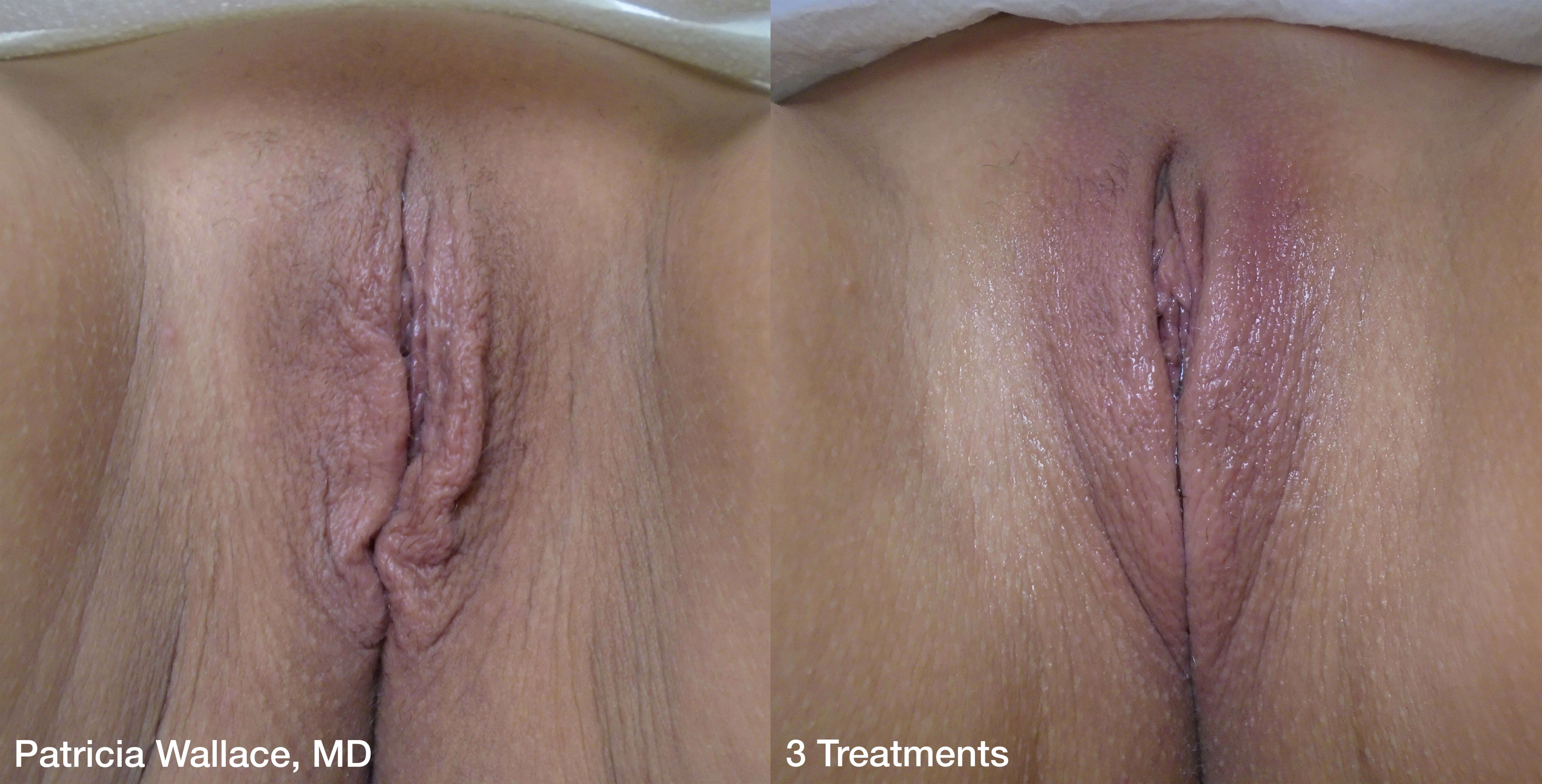 Frequently Asked Questions
How much does ThermiVa cost?
The price of ThermiVa could vary from patient to patient, depending on the number of sessions required to gain results. Once your tailored treatment plan has been produced, we will be able to talk about the specific price of your ThermiVa therapy. We will also be able to answer any questions you have regarding your out-of-pocket costs.
What is the difference between ThermiVa and labiaplasty?
ThermiVa is more appropriate for women who are unsure about having more children because it is less expensive, quicker, and does not require a recovery period. Though ThermiVa is a beneficial treatment option for women who have moderate vaginal skin laxity, it may not be the ideal solution for women with severe vaginal laxity. A labiaplasty is a surgical removal of the excess skin near the vaginal area and may be better suited for women with substantial vaginal skin laxity.
How many ThermiVa treatments will I need?
For outstanding results, a series of three ThermiVa treatments spaced around a month apart is advised. Following the three initial treatments, annual touch-up treatments may be necessary to maintain results. Also, the natural aging process, significant weight changes, pregnancy, and childbirth can alter results.
What conditions can be treated with ThermiVa?
By developing a tighter vaginal area, ThermiVa can also treat a lot of other problems that may have occurred through aging and other elements. ThermiVa is designed to reduce vaginal laxity, as well as vulvar or labial laxity to strengthen the labial tissues and minimize any sagging. In addition, it can reduce incontinence and dryness to minimize any urge, accidents, or leakage symptoms. ThermiVa can also treat sexual dysfunction or orgasmic difficulties by helping to heighten sensitivity and boost the ability to achieve orgasms.
How does ThermiVa work?
ThermiVa uses radiofrequency (RF) energy to heat up the deep layers of the skin from inside the body. Using the controlled and carefully monitored delivery of energy right where it is needed the most permits the tissues to be tightened beneath the skin. With radiofrequency energy, there is much less discomfort for the patient and outstanding results are obtained.
Restore and Revive
With ThermiVa, women no longer have to suffer from loose vaginal tissue or functional problems. There is no downtime needed, unlike with surgical methods for vaginal tightening. Feel more confident after your ThermiVa treatment as your labia and/or vagina becomes firmer. To learn more about ThermiVa, contact Snyder Dermatology in Austin, TX today to schedule a consultation.